In the heart of the Landes region between dunes and pine forest
In the heart of les Landes, enjoy a breath of fresh air in our 4B Club "Les Vignes." During your stay, enjoy surfing, taking long walks in the pine forest, cycling, or communing with nature and letting go. Plus our heated pool will delight the whole family!
Poussin ​Club
4-35 months
Leo Clubs
3-10 years
Junior & Teens
11-17 years

Swimming pool

On the water

Courses with sports coaches
/ Direct access to the beach and ocean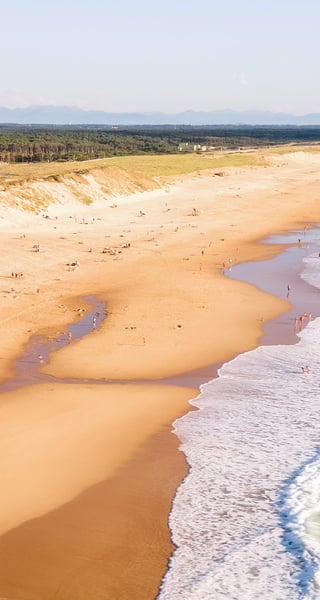 / A 100% secure pedestrian site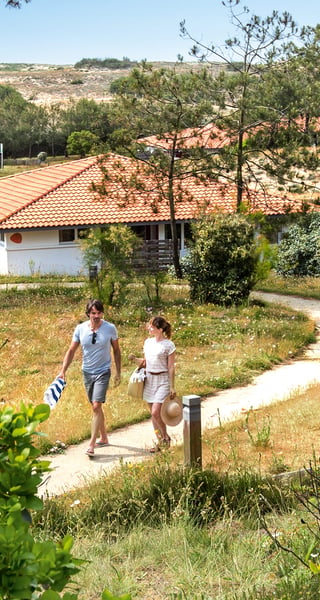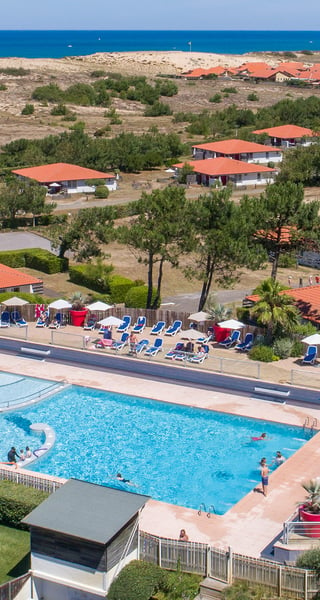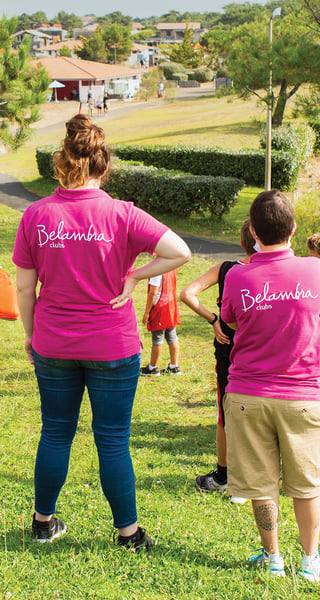 / Ideal starting point to explore the Basque Country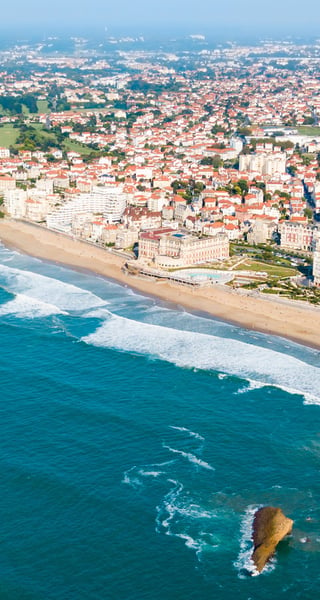 "The location of the site is great, 200 metres from an extraordinary beach."
"The village is car-free but there's a large, accessible car park."
"We discovered a very beautiful region, highly recommend for nature lovers."
"The baby club is great, our 2 year old was happy to go."
"Great site for visiting Hossegor, Bayonne, Biarritz, San Sebastian, Espelette, etc."
Live the Belambra experience in Capbreton
Discover our selection of sports activities for all, our festive entertainment programme and our suggestions for discovering the region!
All for kids!
Our staff take care of children from toddlers to teens with fun and varied activities at the clubs and one evening per week for one-on-one time. Kids, like their parents, won't want to go back!
Our accommodation
Choose from accommodation for 2 to 6 people, at the Essential, Classic or Premium comfort level.
Cleaning

Towels provided + beds made on arrival, departure cleaning

Towel changing

Garbage can emptied in the middle of your stay

Stay 2 weeks and +

Bed sheets renewed every intermediate weekend

Child care

Comfort and safety for your child
Premium

3 Rooms

|

Terrace

|

PRM

|

Air Conditioning

35 - 45m²
6 personnes
Air conditioning

See more

Premium

3 Rooms

|

Terrace

|

Air Conditioning

40 - 45m²
6 personnes
Air conditioning

See more

Premium

2 Rooms

|

Terrace

|

PRM

|

Air Conditioning

30 - 35m²
5 personnes
Air conditioning

See more

Premium

2 Rooms

|

Terrace

|

Air Conditioning

30 - 35m²
5 personnes
Air conditioning

See more

16 - 20m²
2 personnes
NON

See more

25 - 30m²
3 personnes
NON

See more

20 - 30m²
4 personnes
NON

See more

12 - 15m²
2 personnes
NON

See more
They have been seduced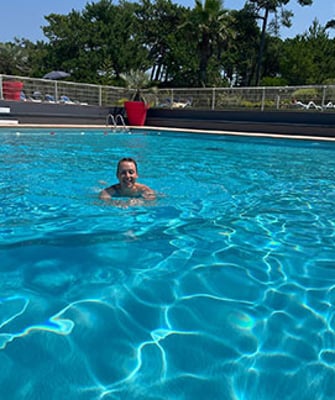 An endearing team
"Management is always professional and available to answer our questions."
Bravo to the chef!
"5 out of 5 for the dining, with a top chef. Varied and well-cooked dishes."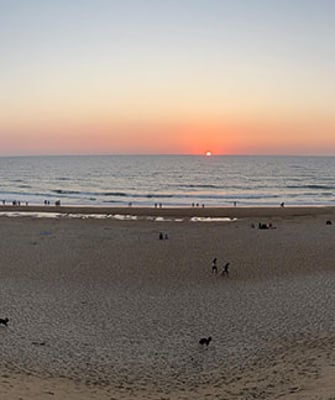 A very relaxing site, with beautiful green spaces!
PRACTICAL INFO
Come by plane
Biarritz airport 36 km
Transfer airport-Capbreton by coach or taxi
Come by train
Bayonne station (18 km)
Transfer by coach leaving from the station to Capbreton (church)
Come by taxi
Taxi Radio XANCHO C. +33 (0) 5 58 72 16 49
For week stays & short week stays
Arrival: between 5pm and 8pm
Departure: before 10am
For short weekend stays
(4 nights maximum, excluding school holidays)
Arrival: between 3pm and 8pm on Saturdays and holidays
Departure: before 12pm. Enjoy the Club until 6pm on Sundays and holidays.
Reception:
+33(0)5 58 41 86 70
Club Belambra "Les Vignes"
Allée des Ortolans
40130 Capbreton
ABOUT
On site
• Restaurant with patio and terrace
• Lounge bar with terrace
• Heated pool of 300m² (1 pool with 1 part for children), open all season; swimming lessons possible
• Surf base within the Club and 150 m from the beach, open all season

• Bike rental on site in July/August (fee applies)
• 2 tennis courts: possibility of lessons
• 1 multi-sport terrain
• 1 beach volleyball court
• 1 petanque court
• Léoland Children's Playground
• Ping-pong
• Billiards (payable)
• Unattended luggage storage at reception
• Paid laundromat: Washing machine & dryer
• Ironing board at laundromat
• Newspapers: South West in open consultation
• Loan of board games and cards (e.g. Scrabble, Trivial Pursuit, etc.)
• Loan of balls and petanque balls
• Loan of special baby equipment: stroller, carrier
• Pets are not allowed
• Free parking at the club
• Site equipped with defibrillator
• WiFi paying in the accommodation and common areas (3.50€ per day for 2 amenities at 20€ per week for 5 amenities) - free in Premium accommodations. Anticipate with the "Full Access WiFi Package" 3, 7 or 14 days pre-booking option
Nearby
• Grocery 1 km (Capbreton center)
• Bakery 1 km (Capbreton centre)
• Newspapers 1 km away (in the centre of Capbreton)
• Tobacco at 1 km (Central Capbreton)

• Regular bus service at 1 km (central Capbreton)
• Bank and ATM at 1 km (in the centre of Capbreton)
• Cinema at 900 m (Capbreton)
• Hairdresser 1 km (in the centre of Capbreton)
• La Poste 1 km (in the centre of Capbreton)
• Car rental at 6 km
• Bike rental 900 m (Capbreton)
• Gas station 1 km away (central Capbreton)
• Doctor at 900 m (Capbreton)
Tour guide
• Capbreton Marine City, its fishing and recreational harbour
• Nature reserves: Orx Marsh, Hossegor Marine Lake, Black Pond Reserves, Huchet Current to be discovered by boat, Landes farms and Chalosse Country gastronomy
• The Basque Country: Bayonne, Biarritz, villages in the hinterland, Rhune, Spain
• Sand wine producer Nicolas TISON
3 km away
• Marqueze Ecomusée Landes 95 km
• La Barthote Farm 22 km
• Huchet Current 32 km
Capbreton Tourist Board
The Capbreton Club is called «Les Vignes» because vines had been planted on the site by the Templars more than a thousand years ago. If they are no longer there, history and charm remain.
To come to Capbreton is to come for a breath of fresh air, communion with nature, with the elements.
On foot, on horseback or by bike, the possibilities of walks are immense. Surfing and cycling tourism are in the spotlight in the heart of Gascony in the Landes.
The key word here is relaxation, letting go. Besides, the club takes care of everything, of your children when you want to breathe, of your leisure, of your desires of discovery, in a word of your well-being. The only risk here is not wanting to go back!
The Club «Les Vignes» welcomes you for a summer holiday in Capbreton, as a couple, with family or friends. Ideally located, the site offers privileged access to the beach and extends over a vast area of 10 hectares in the heart of dunes and a shady pine forest. Opting for a holiday in Capbreton, in the «Les Vignes» Club, means access to quality services and facilities. A few steps from your accommodation with private equipped terrace, enjoy a vast heated pool of 300 m² and access to a rich program of activities. To stay in shape, take advantage of fitness classes (Bodybalance, Bodyvive, Bodycombat, Sh'bam) hosted by Les Mills, the number 1 Fitness Clubs in France. Discover the «Athlé Santé» activities coached by the French Athletics Federation, try tennis or enjoy the water activities offered by the surf base located on the nearby beach.

In the evening, discover the lively aperitifs, themed evenings and shows. All these activities are organized by the Club in order to end your days in a good mood and conviviality. Toddlers, children and teenagers will also be able to fully enjoy their summer holidays in Capbreton thanks to the Belambra Clubs. From 3 months to 17 years, they will be able to spend, have fun and wake up with activities and games specially designed for them by teams of qualified and dynamic animators. Organized according to weekly themes and placed under the sign of discovery and fun, the programs will not fail to please them.
Your holiday in Capbreton will also be an opportunity to discover the Aquitaine region and the magnificent sites it houses. The marine lake of Hossegor, the Landes farms, the village of Orx and its marsh, the marine city and the port of Capbreton are among the sites to discover. Book now your stay in our Holiday Club with your children in the Landes and have a pleasant stay on the Basque coast in one of our accommodations.Village vacances Capbreton Les Vignes - Belambra Clubs