Come discover this mythical seaside club with the most beautiful view of the west coast! Located on the famous "La Chambre d'Amour" beach, opposite the lighthouse of Biarritz, the 5B Belambra Club in Anglet has been given a makeover with living spaces completely redecorated in an ethno-chic style. Open all year round, Anglet is the ideal starting point to discover the best of the French and Spanish Basque Country.
Poussin ​Club
4-35 months
on reservation
Leo Clubs
3-10 years
Junior & Teens
11-17 years

Region to explore
/ Newly renovated living spaces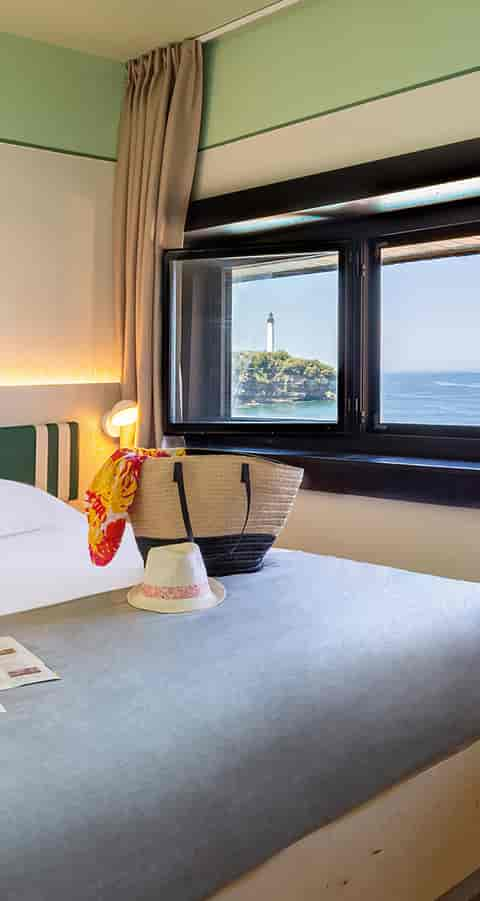 / Sea view on the Chambre d'Amour beach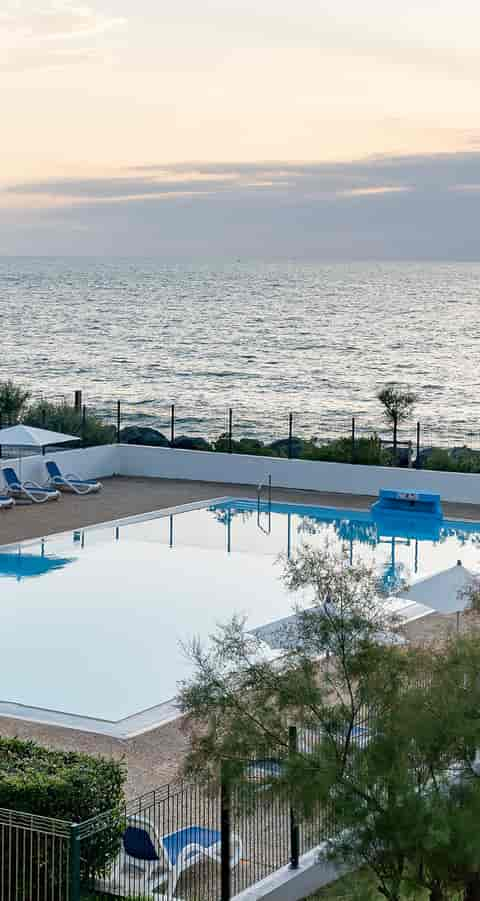 / Discover the Basque Country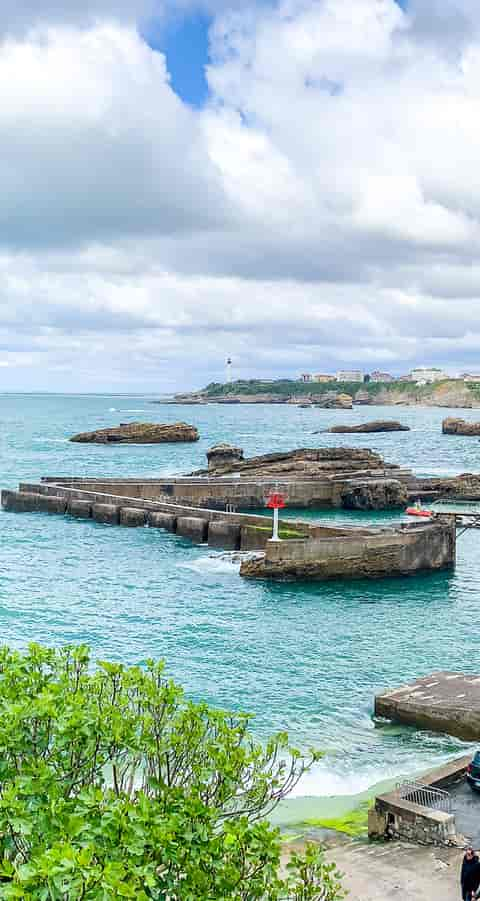 / With baby in complete serenity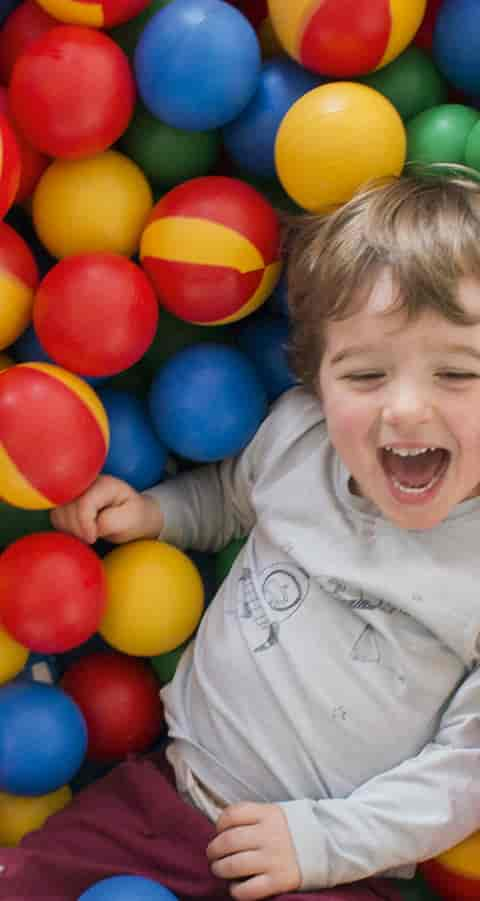 "Everything went well, the room is spacious and comfortable."
"Excellent stay, an ocean view like a painting."
"Very nice resort and club close to all the Basque Country sights. Perfect."
"The 5 children I came with were delighted with the kids' clubs."
Live the Belambra experience in Anglet
Discover the region with the whole family, our selection of activities for all from sport to well-being, as well as our shows and evening entertainment.
All for kids!
Our teams take care of toddlers from 4 months up to teenagers (from 23/12 to 06/01, from 10/02 to 09/03 and from 06/04 to 04/05/2024) with fun and varied activities at the clubs. Everything is thought out to keep children... and their parents... happy!
Our accommodations
Choose from 210 rooms for 1 to 6 people, with ocean or cliff views, at the Classic or Premium comfort level. Premium rooms have been recently renovated.
If you wish to have more information or to reserve an accommodation adapted to the persons with reduced mobility (PMR), we invite you to contact the +33 1.46.10.13.14
Cleaning

Middle and end of your stay

Bed linen

Beds made upon arrival

bathroom linen

Bed sheets and bath mats provided

Child care

Loan of bed, bath, bottle warmer and deckchair (baby under 12 months) in the accommodation, with pre-booking.
Premium

2 Rooms

|

Spectacular views

25 - 30m²
4 people
Spectacular views

See more

Classic

1 Room

|

Spectacular views

16 - 19m²
2 people
Spectacular views

See more

Classic

2 Rooms

|

Spectacular views

25 - 35m²
4 people
Spectacular views

See more

30 - 35m²
5 people
Ocean views

See more

25 - 30m²
3 adults and 1 child
Ocean views

See more

30 - 35m²
5 people
Ocean views

See more

35 - 40m²
6 people
Ocean views

See more

16 - 19m²
2 people
Wifi

See more

Classic

1 Room

|

Sleeping area

|

PRM

25 - 30m²
3 people
Wifi

See more
They have been seduced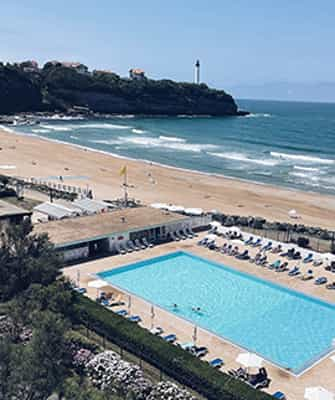 Total disconnection
"Complete escape from the exceptional site"
Good and homemade
"We were pleasantly surprised by the quality of the cuisine. Homemade!"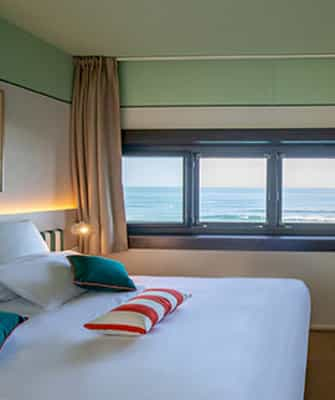 Great accommodation with very good bedding.
PRACTICAL INFO
Come by air
Biarritz Airport 6 km away
Transfer from the airport to Anglet by taxi
Come by train
Bayonne station (TGV high-speed train ) 9 km away or Biarritz station (TGV high-speed train) 4 km away
Taxi connection or coach between Bayonne and Anglet: lines no. 4 and 7 - Information on Sunday and bank holiday timetables can be obtained from the STAB transport company: +33 (0)5 59 52 59 52
Come by taxi
Taxi BAB : +33(0)5 59 63 17 17
For week stays & short week stays
Arrival: between 5pm and 8pm
Departure: before 10am
For weekend stays
(school vacations)
Arrival: between 5pm and 8pm
Departure: before 10am
(outside school vacations)
Arrival: between 3pm and 8pm on Saturdays, public holidays and bridge weekends
Check-out: before 12pm
Reception:
+33(0)5 59 31 31 31
Club Belambra "La chambre d'Amour"
Promenade des Sources
64600 Anglet
ABOUT
Services on site
• Free parking
• Luggage storage
• Laundromat (with charge)
• Ironing equipment available
• Loan of strollers
• Loan of board games
• Pets are not allowed
• Site equipped with a defibrillator
Nearby services :
Within a radius of 2km :
- Grocery
- Bakery
- Tobacconist's shop
- Car rental
- Bike rental
- Bank and ATM
- Post office
- Gas station
- Doctor's office

Bus service with regular stops in front of the club
The Basque Country is a destination of choice for a holiday for two, with friends or family. Between culture, nature, sport, gastronomy and tradition, discover all the richness of the region, whatever the season. Staying at the Club d'Anglet, you will enjoy privileged access to the beach, the famous Chambre d'Amour, at the bottom of a cliff and enjoy a breathtaking view of the Atlantic Ocean and the Biarritz lighthouse. You will be seduced by its decoration, its beach restaurant and its unique access to the most beautiful beach of the region.
Spend your winter holiday in a Club Vacances in Anglet and enjoy the immediate proximity to Biarritz and Spain. The ideal place to discover the Basque Country and the softness of the region in winter. You will enjoy the charming landscape and panoramic views of the ocean and the Biarritz lighthouse. Put your suitcases in a modern and design Club where everything is studied to promote your comfort. Take the opportunity to discover the riches of the region, such as the large beach of Biarritz and try your hand at surfing, the Museum of the Sea, the old port or the chocolate museum while on the other side of the Spanish border, San Sebastian, Loyola, Bilbao and the Guggenheim Museum await you.

Your stay by the sea in a holiday village in Anglet will be the opportunity to enjoy a pleasant family holiday thanks to the children's clubs open during the school holidays for children from 4 months to 17 years. Young people will be offered varied activities adapted to their age, all supervised by qualified facilitators. For adults, relax with fitness classes, the 9-hole golf course located 8 km away and the thalassotherapy centre nearby.

After a busy day of activities or exploring the destination, find the comfort of your accommodation and bed for a night of relaxation. The property welcomes you in the best conditions.