Ideal for sport lovers looking for thrills
Composed of several areas between pine forest and ocean, our 4B Club Seignosse "Les Tuquets" is a paradise for sport lovers with insatiable energy: aquatic area with three pools, surf centre on the beach, sports tournaments organised by the club ... Come unplug at the edge the dunes facing the ocean!
Leo Clubs
3-10 years
Junior & Teens
11-17 years

Swimming pool

On the water

Courses with sports coaches
/ At the edge of the dunes, facing the ocean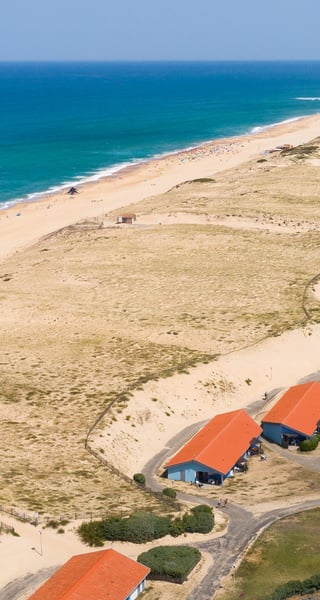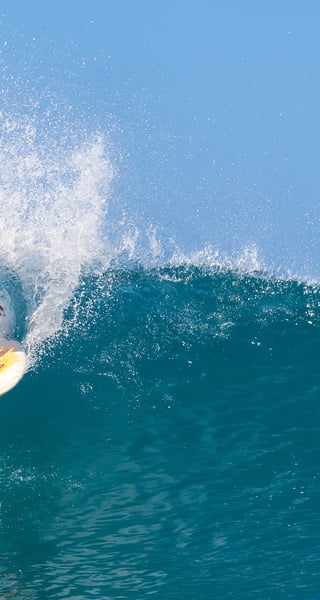 / The tranquility of les Landes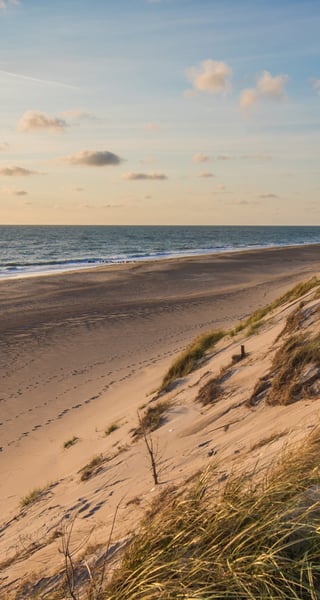 / Ideal for sport loving families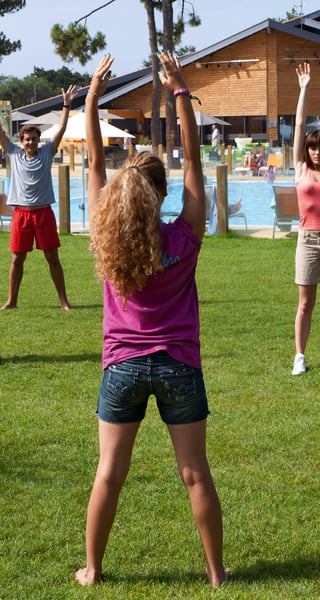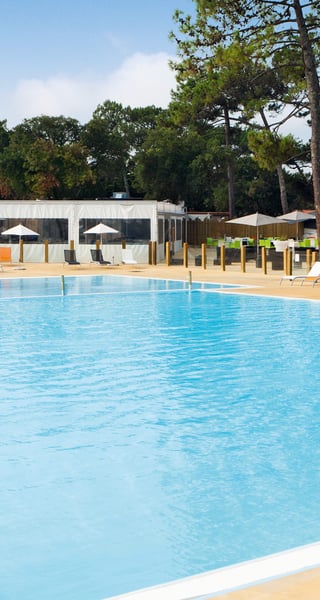 "What a joy to have the ocean a 2-minute walk away."
"An uncrowded beach and a surf spot that will delight even beginners."
"Long live the Bayonne festivals, the Landes forest and the joys of living by the ocean."
"Very good holiday club and very good activities for children and adults."
"The pools are perfect for the whole family with shade for the little ones."
Live the Belambra experience in Seignosse-Hossgor
Discover our selection of sports activities for all, our festive entertainment programme and our suggestions for discovering the region!
All for kids!
All for kids! Our staff take care of children from toddlers to teens with fun and varied activities at the clubs and one evening per week for one-on-one time. Kids, like their parents, won't want to go back!
Our accommodation
Choose from accommodation for 2 to 6 people, at the Classic comfort level.
Bed sheets included

Stay 2 weeks and +

Bed sheets renewed every intermediate weekend

Short stays (4 nights max)

bed sheets renewed every intermediate weekend

Child care

Comfort and safety for your child
30 - 35m²
Kitchenette

See more

40 - 45m²
Kitchenette

See more

35 - 45m²
Kitchenette

See more

40 - 45m²
Kitchenette

See more

30 - 35m²
Kitchenette

See more

35 - 40m²
Kitchenette

See more

30 - 35m²
Kitchenette

See more

20 - 25m²
Kitchenette

See more

20 - 25m²
Kitchenette

See more
They have been seduced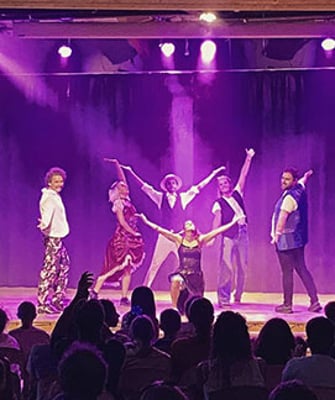 What ambiance!
"We'll come back for the pleasant, low-key atmosphere: concerts, parties, dancing."
Guilty pleasures
"The accommodation in the dune is really magical, relaxation guaranteed!"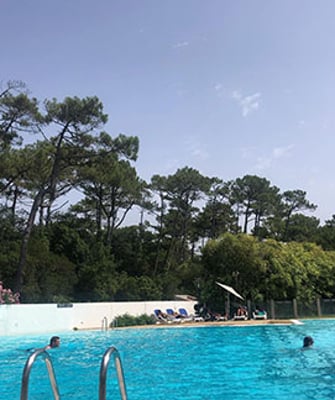 The ideal location: sun, surf and dunes!
PRACTICAL INFO
Come by train
Dax station (TGV high speed train), 35 km
Bayonne station (TGV high speed train), 30 km
then bus to the residence or taxi

Come by taxi
S.O.S. Taxi 05 58 72 87 77
Weeklong stays & short weekday breaks
Check-in : between 5 pm and 10 pm
Check-out : before 10 am
Short weekend breaks
Check-in : between 5 pm and 8 pm
Check-out : before 10 am
During French term time
Check-in : from 12 pm on Saturday (or public holiday),
Check-out : before 2 pm Sunday (or public holiday). Possibility to enjoy from Club facilities until 6 pm
Reception:
+33(0)5 58 41 68 68
Club Belambra "Les Estagnots-Mer"
Place des Estagnots
40510 Seignosse Océan
ABOUT
On site
• Restaurant / terrace on the "Pinède" side
• Redecorated bar lounge with poolside terrace on the "Pinède" side
• 188-m² swimming pool with 42-m² paddling pool
• Surfing centre: lessons and courses (extra charge)

• 1 tennis court
• 1 sports ground
• 1 pétanque court
• Leoland children's playground
• Laundrette (extra charge): Washing machine + tumble dryer
• Ironing board and iron available at the laundrette
• Newspapers: 1 daily newspaper available for browsing
• Bread and pastries on sale at reception (see timetable under the dining section)
• Loan of board games and cards (e.g.: Scrabble, Trivial Pursuit, etc.)
• Loan of balls and pétanque balls
• Pets not allowed
• Free parking spaces for each hamlet located around the park
• Site equipped with defibrillator
• Wifi (extra charge) in accommodation and reception area (From 2€ per day for 2 devices to 20€ per week for 5 devices) – Free in VIP accommodation
Nearby
• Bus stop 1 km from the Club
• Groceries: Mini-market 20 m from the Club
• Bakery 20 m
• Newspapers 20 m

• Tobacconist 20 m
• Regular coach service: stop between the 2 clubs in front of the mini-market
• Bank and ATM 1 km in Le Penon
• Cinema 5 or 10 km away at Hossegor
• Hairdresser 5 or 10 km away at Hossegor
• Car hire 5 or 10 km away at Hossegor (or Bayonne)
• Bike hire 1 km away in Le Penon
• Post Office: at the Club
• Petrol station 6 and 7 km
• Doctor in Seignosse and in Le Penon
Tourist guide
• Hossegor, Capbreton, Dax , les lacs marins et d'eau douce et les courants Hossegor, Capbreton, Dax , marine and freshwater lakes
• The Landes Regional Natural Park, regional traditions: duck farms, waders, boatmen, Basque pelota
• The Ocean Basque Country: Bayonne, Biarritz, Saint-Jean-de-Luz
• The terrestrial Basque Country and its picturesque villages
• The Spanish Basque Country, San Sebastia
Seignosse Hossegor tourist office website
The Club des Estagnots is the ideal place to disconnect, recharge and commune with nature. The huge advantage we have is being close to the ocean. It is the perfect place for those looking for a strong sensation on the waves of a famous spot in Aquitaine!
The whole team is at your disposal and offers all the activities that make Belambra famous.
For those who want to go beyond the sporting experience, the club is the ideal gateway to the Landes coast and its legendary sweetness of life.
Located on the beach, behind sunny dunes, the holiday village of Seignosse «Les Estagnots – Mer» is an ideal resort for surf lovers and vacationers looking for an invigorating natural setting. With family, friends or two, enjoy your summer holiday in Seignosse Hossegor in the Nouvelle Aquitaine region.
This stay is a perfect opportunity to indulge in a thousand and one activities. During the day, enjoy a vast 300 m² aquatic area and the surf base backed by the Club. Treat yourself to sports and tonic parentheses thanks to the multisport field, the fitness course hosted by Les Mills, or the «Athlé Santé» activities coached by the Fédération Française d'Athlétisme and Aquaticâ Gym classes.
Not far from the Club, walking and cycling trails will allow you to explore the surroundings and enjoy nature. Your summer holiday in Seignosse Hossegor can also be punctuated by excursions in the area. The natural, historical and cultural heritage of the region is waiting to be discovered. Hossegor, Capbreton, the Landes Regional Nature Park, livestock farms, picturesque villages around, Bayonne, Biarritz and Saint-Jean-de-Luz are all places to explore. Atlantic Park, the Saint-Paul Les Dax thalassotherapy centre, will also be able to offer you pleasant moments during your stay on the West Coast.
If you stay in this holiday club with children, your children may find themselves with others of their age to have fun. Children from 3 to 17 years of age will not be left behind during their holiday in Seignosse Hossegor at the children's clubs of the establishment. They will be able to spend and have fun thanks to the activity programs concocted by their dynamic and experienced animators. In the evening, give yourself a festive break with the themed animations organized each evening. Book your summer holiday accommodation in Seignosse Hossegor and spend an idyllic holiday by the ocean.